Lamingtons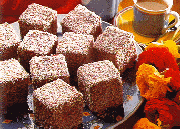 1 1/2 cups self-raising flour
1/3 cup cornflour
185 g butter
1 cup caster sugar
2 teasp. vanilla essence
3 eggs, lightly beaten
1/2 cup milk
3/4 cup cream
Icing:
4 cups icing sugar
1/3 cup cocoa powder
30 g butter
2/3 cup milk
3 cups dessicated coconut


Method
Preheat oven to moderate 180'C.
Brush a shallow 23 cm square cake tin with melted butter or oil.
Line base and sides with baking paper.
Sift flour and cornflour into large bowl.
Add butter, sugar, essence, eggs and milk.
Using electric beaters, beat on low speed 1 minute or until ingredients are just moistened.
Beat mixture on high for 3 minutes or until mixture is free of lumps and increased in volume.
Pour mixture into prepared tin; smooth surface.
Bake 1 hour or until skewer comes out clean when inserted in centre of cake.
Leave cake in tin for 3 minutes before turning onto wire rack to cool.
Using a serrated knife, trim top of cake until flat.
Trim crusts from sides of cake.
Cut cake in half horizontally.
Using electric beaters, beat cream in small mixing bowl until stiff peaks form.
Place first layerof cake on a board, spread evenly with cream.
Place remaining cake layeron top.
Cut cake into 25 squares.
To make Icing:
Sift icing sugar with cocoa.
Combine with butter and milk in medium heatproof bowl.
Stand bowl over pan of simmering water, stirring until icing is smooth and glossy; remove from heat.
Place 1 cup of coconut on a sheet of greaseproof paper.
Using 2 forks, roll a piece of cake in chocolate icing; hold cake over bowl, allow excess to drain.
Roll cake in coconut, place on wire rack.
Repeat with remaining cake, add extra coconut for rolling as needed.