Avocado Queenslander
Serves 4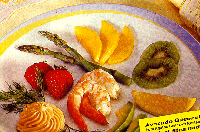 1/2 bunch asparagus
8 cooked king prawns (shrimps)
1 avocado, sliced
1 mango, sliced
1 kiwi fruit, sliced
8 strawberries
1 lemon

Cocktail Mayonnaise
2 egg yolks
1/2 teaspoon dry mustard powder
1 1/2 teaspoons white vinegar
1 cup oil
1/2 teaspoon Worcestershire sauce
2 teaspoons tomato paste
1/2 teaspoon tabasco sauce
Method
Trim asparagus and steam/microwave until tender.
Cool, peel and deveine prawns, leaving tails intact.
Arrange asparagus, prawns, avocado, mango, kiwi fruit, strawberries and lemon wedges on plates.
Spoon cocktail mayonnaise into a piping bag fitted with a star tube.
Pipe mayonnaise onto each plate.

Cocktail Mayonnaise
Combine egg yolks, mustard and 1 teas. of vinegar in bowl, beat vigorously.
Add oil, drop by drop, whisking constantly until 1/4 cup oil has been added.
Add remaining vinegar, then slowly add remaining oil in a steady stream, whisking constantly.
Stir in Worcestershire sauce, tomato paste and tabasco.