Anzwers Advertisers

Wednesday 10th of November 1999
By ANNE DAVIES, Sydney Morning Herald

Alan Jones:
'The opinions which I express are always my own'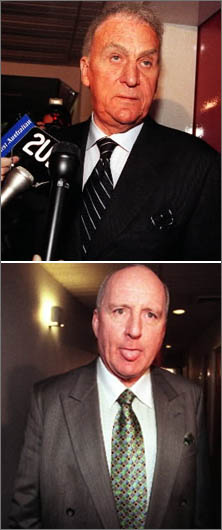 Radio ga-ga ... John Laws (above) and Alan Jones at the ABA inquiry yesterday.
Photos by BRENDAN ESPOSITO
Alan Jones, radio 2UE's breakfast presenter, told the Australian Broadcasting Authority yesterday his opinions were not for sale but admitted he might not have looked too closely at the wording of some of his sponsorship agreements before signing them.
Giving evidence for the first time to the ABA's inquiry into payments within the talkback industry, a confident Jones said his sponsorship arrangements did not influence what he said on air.
"The opinions which I express are always my own opinions," he said in a formal statement tendered to the inquiry. "I have never expressed an opinion on air which I did not genuinely hold, write or prepare, nor have I been paid to refrain from expressing an opinion."
But he admitted, in response to questioning from his counsel, Mr Brett Walker, not reading a letter of agreement with Qantas too closely before signing it.
The agreement requires Jones to run regular on-air editorial comment on Qantas.
Jones said he had not, in fact, provided regular on-air editorial comment but had sometimes picked up issues from material sent to him by the airline if he deemed it newsworthy.
He also said that he had not read his contract with Colonial State Bank "as closely as I should have".
That contract requires Jones to consult with Colonial before he makes any utterance or comments on any event which might affect the bank.
Asked by Mr Walker whether this was a very broad obligation, Jones agreed.
"I would see it as a nonsense and it hasn't happened in practice," Jones said.
He said that in his view the agreement did no more than require him to seek the bank's side of the story, as he would do with any bank which was the subject of criticism on his show.
The ABA is inquiring into three sponsorship deals Jones has: a $150,000-a-year deal with Qantas, a $433,000 deal with Colonial and a $500,000-a-year deal with Optus.
Jones said he believed a guideline issued to all presenters by 2UE's chairman, Mr John Conde, on July 27, 1998, in the wake of the ABC Media Watch program had "total application to him". But he said that in its detail it did not apply to him because he did not commit any of the breaches Mr Conde was worried about.
Jones said he had never tried to disguise live-read commercials as editorial.
"I can't understand why anyone would want to disguise it. That is the lifeblood and the heart and soul of commercial radio. We don't apologise for live reads. We don't apologise for the commercial content."
But Jones, whose evidence continues today, said he did not begin each ad with "buy Mercedes-Benz" either.
"That would be the ultimate in boredom," he said.
In earlier evidence, Jones's stablemate, John Laws, told the inquiry that although there had been numerous written communications in the wake of the Media Watch allegations in 1998 and 1999, he had not been asked by 2UE to alter the format of his program.
Laws's account of his conversation with Mr Conde, following a new guideline to all presenters in July 1998, was corroborated by his personal assistant, Ms Jodee Borgo.