Architectural Interloper Pops Up in Sydney
Fortune, 27. October 1997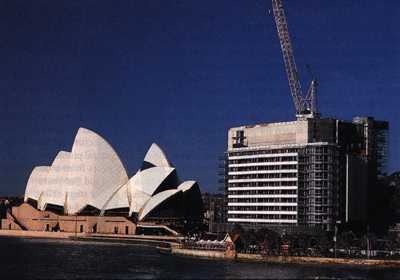 "A harbor sea creature up to no good" is how Sydney's opera house was described by the actor Robert Morley when it was opened in 1973. Today, though, the building's multidomed silhouette has grown on Sydneysiders. They're even proudly using in the logo for the 2000 Olympic Games, which will be held the city. Now, alas, another building has been erected next door that critics say spoils the view. How ugly is this interloper? Let's just say that local taxi drivers dubbed the squat, silver structure the "Toaster." This being Australia, unhappy residents didn't just sign an angry petition-although 60,000 of them did that too they showed their displeasure by pelting the building with rotten eggs, tomatoes, and, fittingly, stale bread. Owners Hongkong & Shanghai Hotels had planned to make the building into a local branch of their luxurious Peninsula Hotel chain. But the numbers didn't add up, so they will turn the building into apartments instead.
Who would live in a building whose form, not to mention its teng shui, seems to bode so ill? Well, buildings do have a way of growing on you. Who knows? Perhaps in a decade or two, this newest creature of Sydney's harbor will show up on a postage stamp.
Anthony Paul
Picture : The Opera House, left, and the Toaster: a landmark of the future?